Nokia ORO is a high end mobile phone from Nokia which is rich in colours (yes, there is a golden edition), has a vibrant AMOLED display and it's display is protected by the tough Gorilla glass. The interesting part about the device is that it has NFC. If you are hearing NFC for the first time, then you should take a look at this.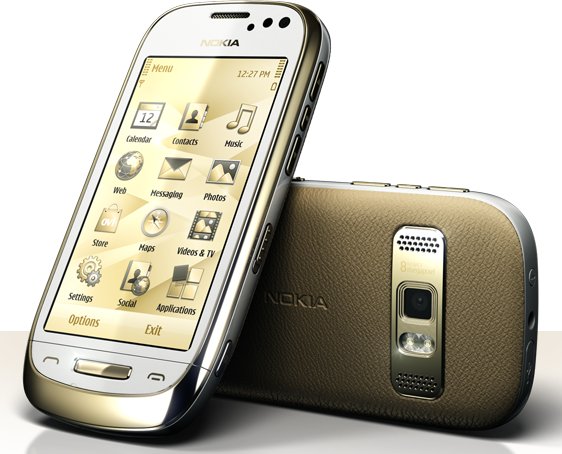 This video below shows how the NFC technology in the Nokia Oro is being used to read and scan some tagged documents:
Listed below are some specs and features of the Nokia Oro mobile phone:
Screen size: 3.5 inch AMOLED / capacitive touchscreen with 640 x 360 pixels
Orientation sensor (Accelerometer), Compass (Magnetometer), Proximity sensor, Ambient light detector, GPS
BL-5K 1200 mAh Li-Ion battery with a max Talk time of upto 9 hours 36 minutes
Size: 11.73 by 5.75 by 1.22 cm and weighs 131.7 grams
Has an internal memory of 8 GB and a MicroSD memory card slot that supports cards up to 32 GB
NFC (Near Field Communication) to help you connect, discover and share
Micro USB connector and charging
Symbian Anna for Nokia & support Flash Lite 4.0
Nokia Oro is priced at €800 (that is approx. $1,122). This works out to around Rs. 51,000/- in Indian currency.