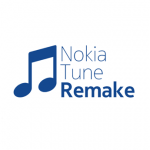 Nokia has been leading the mid-range mobile devices market for quite a long time. In countries like India, Nokia is still the market leader in mobile devices / handsets. So, for all Nokia fans out there, here is something which each one of you is going to like for sure. The video below compiles all Nokia ringtones at one place right from the year 1994 to 2011.
Liked it? Well, Nokia is now planning to unveil an all new Ringtone for its upcoming Windows Phone 7 devices and other mobile phones which are a part of it's 2012 portfolio. And for this Nokia has launched a contest where in musicians and remix artists can submit their entry.
The top 5 entries will be shortlisted for a final review by the team of Nokia's esteemed panelists and the Winning entry will be chosen as the default ringtone for all of Nokia's new handsets. The winning entry also gets a cash award of USD 10,000! The runners up will receive USD 1,000 each. You can find more about the contest here.