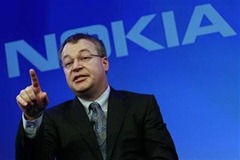 After almost two years of litigation of Nokia and Apple suing and counter suing each other, the patent war between the two companies has come to an end. Nokia and Apple have arrived at a settlement and both of them have agreed to withdraw all their patent lawsuits against each other.
The winner out of this settlement is, however, Nokia. As a part of the settlement, Apple has agreed to become a licensee of Nokia's patents. As a part of the licensing agreement, Apple has agreed to give Nokia a one-time payment and ongoing royalties. The exact terms of the agreement – including the amount to be paid – have not been disclosed.
This is what Nokia CEO, Stephen Elop, said:
We are very pleased to have Apple join the growing number of Nokia licensees. This settlement demonstrates Nokia's industry leading patent portfolio and enables us to focus on further licensing opportunities in the mobile communications market.
A brief history of Nokia and Apple's patent lawsuits
With companies suing and countersuing each other, it is very difficult to keep track of what has been happening. Here is a brief history of the patent lawsuits between Nokia and Apple.
Here is a brief history of the patent lawsuits between Nokia and Apple.
In October 2009, Nokia started off the patent war against Apple with a lawsuit claiming that Apple's iPhone infringes on 10 Nokia patents related to GSM, UMTS and Wi-Fi.
In December 2009, Apple counter sued Nokia claiming that Nokia infringes on 13 patents owned by Apple.
Almost two weeks after Apple countersued them, Nokia filed a complaint against Apple in the International Trade Commission. The complaint claims that virtually all of Apple's devices infringe on one of seven patents owned by Nokia that covers the UI, camera, antenna and power management.
A few days (January 2010) after the complaint to the ITC, Nokia again went to the ITC and asked that they ban the import of all Apple products – from MacBooks to iPods.
Two weeks after Nokia asked the ITC to ban all Apple devices, Apple responded in the same vein by asking the ITC to ban import of Nokia devices to the US.
In May 2010, Nokia again sued Apple saying that the iPhone 3G infringes on five Nokia patents. At this point, Nokia is accusing Apple of infringing on 22 patents and Apple is accusing Nokia of infringing 13 Apple patents.
In December 2010, Nokia again sues Apple in the UK, Germany and Netherlands claiming that the iPad, iPhone and iPod Touch infringes on 13 Nokia patents which cover issues such as UI, antenna design, messaging etc.
In March 2011, Nokia again returned to the International Trade Commission to complain against Apple and added seven more patents to the list that they are accusing Apple of infringing. The seven new patents that Nokia is accusing Apple of infringing are related to technologies about multitasking, bluetooth, data synchronization etc.
Finally in June 2011 (today), Apple has succumbed and has agreed to pay Nokia to license the Nokia patents.