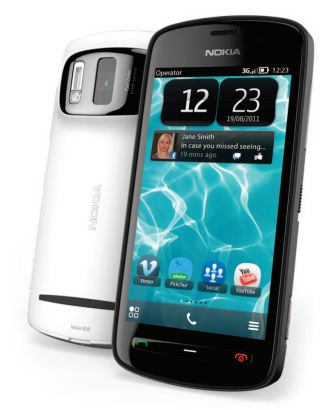 Nokia has just announced the biggest news at the Mobile World Congress at Barcelona. Nokia has released a camera phone with a 41 MP sensor. Yes, that is right – forty one mega pixels!
The Nokia 808 PureView, with its 41 MP camera, is a big surprise to everyone. A 41 MP camera is unheard of not only in camera phones, but professional digital cameras as well. However, the camera is not the only surprise with this device. The other surprise is that the phone runs Symbian Belle OS, not Windows Phone. The Nokia 808 PureView is powered by a 1.3 GHz single-core processor and has 512 MB of RAM onboard.
Nokia has been reportedly working with Carl Zeiss for a very long time to produce this 41 MP sensor. Although it has a 41 MP sensor, the phone cannot practically take a 41 MP photo. The photo is limited to a maximum of 34 MP at 16:9 aspect ratio and 38MP at 4:3 aspect ratio. The phone can also capture 1080p videos, and can give upto 4x lossless zoom at 1080p.
Those of you who knows about digital camera will know that mega pixels is not the only deciding factor in the image quality. The sensor format ( or rather the sensor size ) plays a huge part in determine the quality of the final image. Larger sensors produce better photos. In this regard, too, the Nokia 808 does not disappoint. It has a 1/1.2″ sensor, which is almost three times the size of the 1/3.2 sensor on the iPhone 4S.
No doubt the Nokia 808 PureView represents a huge leap in smart phone camera technology. However, the fact that it runs Symbian Belle OS – a practically dead OS – points toward it being a more experimental phone from Nokia. Not many people need a phone with a 41 MP camera. However, we will no doubt see this technology in Nokia's future phones – probably, the Lumia series.
The Nokia 808 PureView is expected to be available in Q2 2012 in Europe at a price of about € 450.
You can read more about Nokia's PureView technology here (PDF).