Maxx, the recent trend setter in small scale mobile segment is now gearing itself for the touch screen market. Maxx announced a full touch screen projector phone, named Maxx Focus MTP9. With the main attraction being 5 MP camera it has, the other specialty this gadget carries is the 2.8" touchscreen which provides a rich usage experience.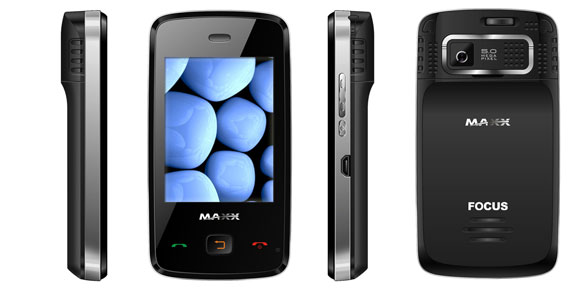 One other feature being the 208 MHz processor available, it provides a king movie player which is capable of reducing the video size without affecting the quality of the video. Amazing, is it not! The device supports videos of mp4 and 3gpp formats. Using the built in projector you can watch all your videos from the phone on a large screen.
This mobile is Java enabled and also comes with pre-installed applications like Facebook, twitter and Yahoo. Opera browser is also available in this gadget to get the best of browsing experience.
With Black and White variants available, the gadget carries itself with an in-built 4 GB memory card which can be expandable to 8 GB. Widgets can be modified as per convenience and it also has a wire-free FM radio facility.
Releasing with a price tag of Rs.6, 999/-, it is a competitive cost when compared to that of other mobiles in this range. All the best to Maxx in this segment!