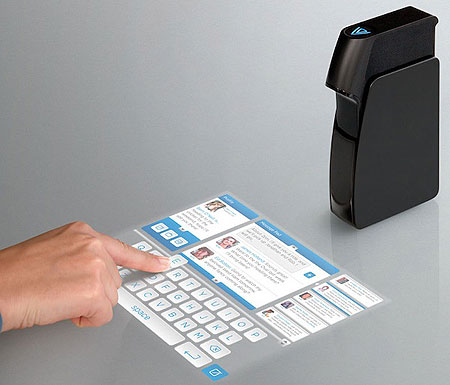 We have all seen many types of futuristic touch screen interfaces projected on walls and other thing in sci-fi movies. In the ongoing CES 2010, a little known company called Light Blue Optics has unvieled a device which takes us one step closer to such a device.
The device that LBO unvieled is called Light Touch. The device is basically an interactive projector. It can transform any flat surface into a touch screen interface. The device uses full-color holographic technology to display the interface on any flat surface. The inputs are sensed through an infrared sensing technology.
This device has been named a CES Innovations Honoree in the Media Player and Personal Electronics categories in CES 2010.
Some other details of the device are:
The operating system it runs on is Microsoft's Windows CE.
The interface that the device projects is around 10″.
The device is Bluetooth and Wi-Fi enabled.
It has a onboard storage of 2GB which can be extended to 32 GB with a microSD card.
The size of the device is 98 x 35 x 165 mm and it weighs around 400 gm.
The device currently has only single-touch support. However the hardware used can handle multi-touch. So multi-touch can be incorporated with a software update.
The device has a Li-Ion rechargeable (3600mAh) battery.
You can check out the video of Light Touch below.