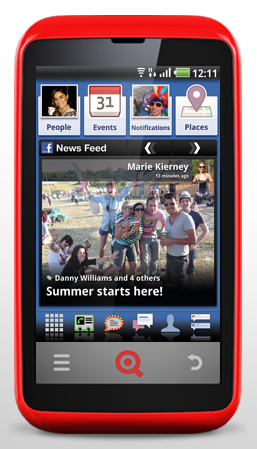 A while back, HTC announced its two Facebook phones – Salsa and ChaCha. However they have been beaten to the market by another Facebook-centric phone from INQ Mobile. The phone named as INQ Cloud Touch goes on sale in the UK today for a cool USD 255+. The equivalent price in India is estimated to be around Rs. 12,000.
This mid-range Android phone runs Android 2.2 Froyo with extensive Facebook integrations. The INQ Cloud Touch is specifically designed for Facebook users and provides quick access to various Facebook features like Chat, Messages, Places, Events etc. In addition to these, Facebook's social graph is also integrated into this device. This means that users will get updates from Friends they interact the most.
INQ has also announced that another Facebook phone with a QWERTY keypad called INQ Cloud Q is also coming soon.
Note: This is not an official phone from Facebook.
[via: Phandroid]