This is some good news that all the Facebook lovers will cherish. Apple is building Facebook features in its latest version of iPhone OS. Speculations are, that Apple will be making announcement at the Apple's WWDC 2010 event on June 7th in San Francisco.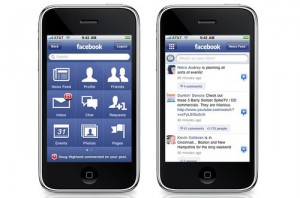 Now what does a built in Facebook feature will actually offer? Well, for one, it will sync the Facebook's contact into the iphone software ,which means , pulling Facebook's contact into iPhone contacts. This is not a new thing, since Apple's competitors already offer this feature. So Apple has to fill in the gap.
Another interesting point worth noting is that Apple may decide to include Facebook Connect features directly into their iPhone OS 4.0 SDK, which will allow developers to implement Facebook-specific features into their apps.
Business Insider also reports that you will be able to send Facebook messages to contacts just as easy as a text message. There will be no charges for it. But again , this is pure speculation.
Facebook , the social networking giant , will be growing at a faster rate once this feature enters the market. Let's see what a combination of iPhone+Facebook turns out to be.