Wireless connectivity has affected our lives to great extent and everyday it continues to penetrate even further. 2G, 3G and now 4G along with Infra-red, Bluetooth, Wi-Fi, Wi-Max and the very recent WiGig has revolutionized the way we stay connected. Wireless transfer speeds have already reached hundreds of Mbps while the operating at frequencies has reached 60 Ghz. With the advent of WiGig, speeds northwards of 7 Gbps is promised.
Now, Artheros and Wilocity have join hands in order to, what it seems, bring out the next big thing in wireless revolution. They are aiming to improve upon WiGig and build tri-band wireless solutions that combine the ubiquity and coverage of WiFi with the multi-gigabit performance of WiGig's 60GHz technology. Although many brilliant things can be built that utilizes such these high speeds, but the most note-worthy one on promise is an alternative of PCI Express, the wireless PCI Express or wPCIe.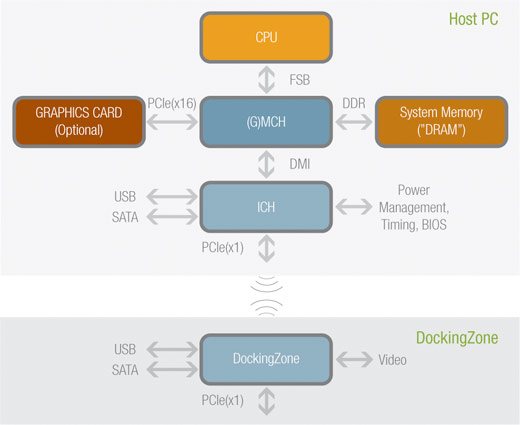 You will now be able to dock your PCIe devices outside your desktop and also be able to share these resources among multiple computers, using wPCIe. Imagine accessing and sharing your Graphics Card remotely just like a SAN, wirelessly. Now, this is definitely something to watch out for.
The official press release said, "By working together to develop tri-band products, Atheros and Wilocity will allow customers to quickly realize the value of tri-band solutions and deliver on the promise of next-generation Wi-Fi" .