Enough of the iPhones and the iPads, now Macbook has some news to make. The leaked Macbook refresh is now official.  The so neglected 13" Macbook has seen its first upgrade since 2009 this morning. There is not much of a difference when you look from the outside. Its the inside.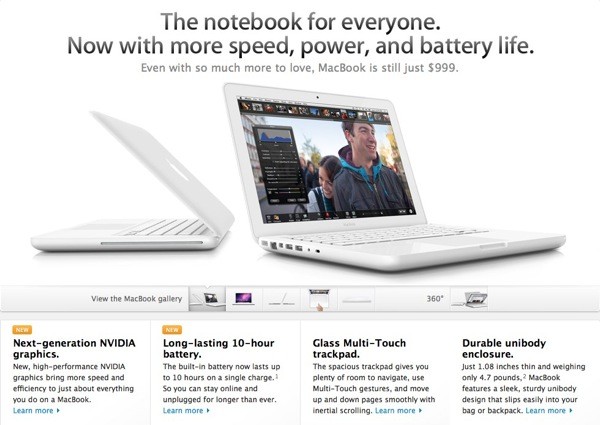 First of all the battery life. The previous model had 7 hours battery life. This one can long upto 10 hours before it needs to be charged again. The CPU has been upgraded from 2.26GHz to 2.4GHz Intel Core 2 Duo ( still not i3 or i5) . Then there is the GPU, unlike prior models, the new Macbook houses, NVIDIA Geoforce 320M. Its not the most powerful in the NVIDIA collection, but still it is not weak. So , the machine will no longer have any problems playing Youtube HD and 1080p clips.
Other specifications include:
2GB DDR3 memory.
250 GB hard drive.
8x double-layer Super drive.
Polycarbonate unibody enclosure
2 USB 2.0 ports.
Macbook remains the Apple's cheapest laptop with a price tag of $999