This one is for all those who want to inflate their ego. An iPad made of gold is now available. UK based designer Stuart Hughes is the man behind this idea.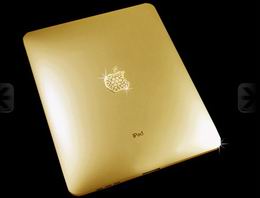 The iPad is made of 22 carat solid gold, weighing 2.1 kgs or approximately 4.4 pounds. Apart from the gold, there are diamonds too. The Apple logo is made up of 53 flawless diamonds with a total weight of 25.5 carats. This is the most expensive iPad having WiFi, 3G and 64GB.
The approximate price tag is $189,125 (Rs 86 Lakhs)  So any takers for this one , have to hurry up as this is only  a ten unit limited edition.