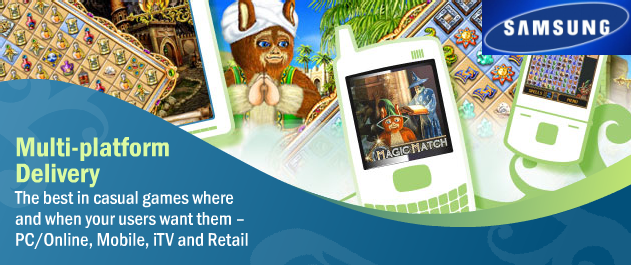 Television manufacturing giant Samsung has announced the launch of Oberon Media's Interactive TV games on Samsung Electronics Co., LTD.'s Internet@TV feature. The game will be available for download and purchase through Samsung Apps, the world's first HDTV-based application store, which will be available on select models of Samsung Electronics' 2010 LED TV and LCD lineup.
The first game is called Dream Day™ Wedding developed by Oberon Media's publishing division which is a wedding-themed franchise that has reached more than 60 million casual gamers through PC, console, and mobile platforms. Now the game has come to TVs courtesy Samsung.

The game includes 25 challenging levels in 13 gorgeous locations and players are required to solve puzzles and find wedding items hidden in multiple scenes. The game finds a new visual definition on the Samsung's Hi-Def displays. We feel all this targetted towards customers and planned by samsung for increasing their HDTV sales. So what do you think? Will this move of including casual games like Wedding help Samsung to increase their overall sales? Do let us know in the comments.
Via VPO