Almost eight months back, Steve Jobs showed off the white iPhone 4. However there has been a series of delays and Apple is yet to sell the white iPhone 4 commercially.
Well, finally it looks like we will be seeing the white iPhone 4 in stores. Apple's senior vice president of Worldwide Product Marketing, Phil Schiller, has confirmed via Twitter that the elusive white iPhone 4 will finally be available this spring.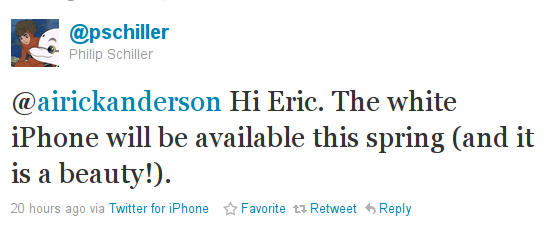 I feel that this is probably too late for the white iPhone 4 to sell well. The iPhone 5 will probably be released this summer and I can see no reason why anyone would buy a white iPhone 4 now.
[via Mashable]