It is fair to say that the Galaxy Note was a surprise sensation. Not many people had expected it to become one of the most popular Android devices as its 5.3 inch screen makes it a larger device than most people would be comfortable with. Shifting well over 10 million units it has become one of the most successful Galaxy products launched to date and its sequel, the Galaxy Note 2, became one of the most anticipated gadgets of 2012.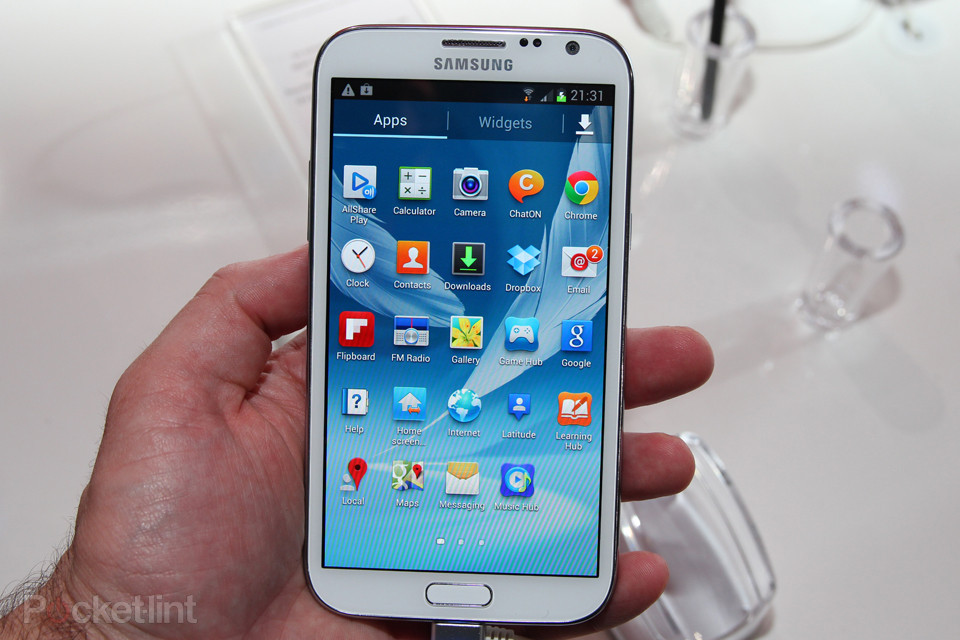 The Samsung Galaxy Note 2 is expect to be priced at around Rs. 39,500 in Indian Currency (Approx. US $600)
The Samsung Galaxy Note 2 was launched last week at IFA in Germany and like the original falls midway between a phone and a tablet, creating for itself a whole new category of "phablet". The Note 2 is even larger than the original with a bigger 5.5 inch screen, but even though the screen size has been increased the resolution has been reduced, so the image is not quite as sharp.
The Note 2 has had some notable performance enhancements:
a new quad core 1.6GHz processor
2GB RAM
The Note 2 also runs on Android 4.1 Jelly Bean and is able to enjoy many of the new features that have been added to the latest version of Google's mobile OS, including Google Now and enhanced voice features
The Note 2 also includes an improved 8 megapixel camera with 1080p video
64GB microSD support, LTE, and DLNA Wi-Fi
But rather than merely increasing the screen size and bumping up the hardware specifications, Samsung has been hard at work developing new features that offer a great amount of value to anyone who has ever considered owning a "phablet".
 Like the original, the Galaxy Note 2 comes with a capacitive stylus known as the "S-Pen". The new S-Pen has been redesigned to be longer and more ergonomic, and the new S-Pen Button brings with it a host of enhanced features.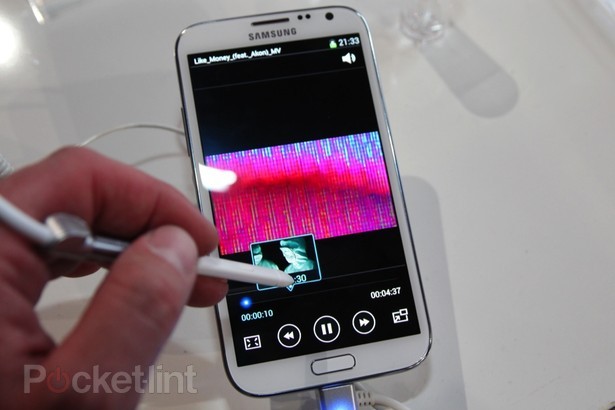 Easy Clip
One of the most interesting of these is the ability to copy any portion of the Note's screen by drawing around it with the S-Pen while holding down the button. The selected area can then be pasted elsewhere, saved for later, or shared with others via email or social networks. Along with Android's existing ability to take screen shots, the Note 2 now includes a Screen Recorder, allowing you to record your activity on the phablet to watch later or share with others.
Air View
One of the problems with touchscreen devices is that the system does not know where your attention is being directed until you press the screen. A desktop computer may be able to fathom this by the movement of your mouse cursor, and many interesting features can be developed around this that are otherwise omitted from touchscreen devices.
The Galaxy Note 2 now includes "Air View", which allows the phablet to detect when you are holding the S-Pen slightly above the screen. With Air View the Galaxy Note 2 is able to offer many of the same hover-over effects that have been present on desktop computers for years but have been sorely absent on touchscreen gadgets.
For example, while sifting through your email inbox you can hold the S-Pen slightly over a message to produce a pop-up box with a preview of the message. This allows you to get a quick glance of the content inside without loading up the message, so that you can decide quickly if it is worth reading or not. Air View can also be used for getting thumbnail previews of images, and also for flicking through photo albums and music libraries.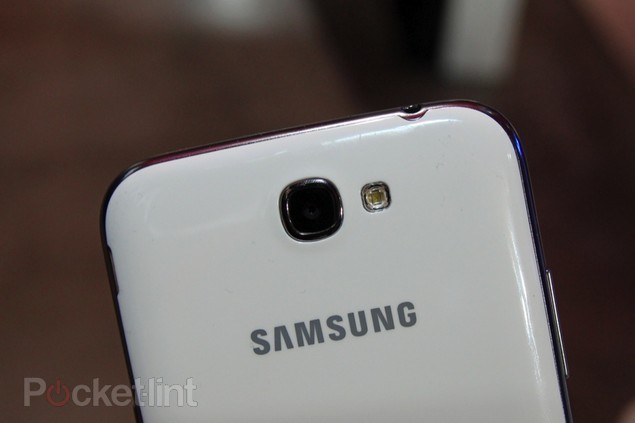 Idea Visualizer
 Perhaps the most interesting new feature of the Galaxy Note 2 is one that really complements its specified purpose as a memo taking device. The Note 2 includes a library of images with each image being associated with a number of words. By using the Note's handwriting recognition you can now write a particular word to have an associated image added into your memo.
For example, writing "boat" will add an image of a boat to your text. As well as coming with a large library of images, you can create your own libraries and associate words with them.
Early October Release
The Samsung Galaxy Note 2 is expected to be released in most markets in early October, just as the dust has settled from the iPhone 5 launch. The Note 2 might not sell as much as Apple's next month but it could easily outperform the original Galaxy Note and become one of the most successful Galaxy gadgets of the year.
Not only does the Galaxy Note 2 offer some of the most intense hardware power of any phone, tablet, or "phablet", but its enhanced stylus features and memo taking capabilities make it the obvious choice for anyone looking for a device in this category. As far as phablets go, the Galaxy Note 2 really has no clear competition anywhere to be seen.
This was a guest post by Simon from Best Mobile Contracts which has been comparing phone deals in the UK for over 5 years.