The news of BlackBerry devices running Android apps has been doing rounds for quite some time now but we have never seen any live demo of all that till now. However, RIM recently unveiled its all new BBX operating system at the recently concluded BB Devcon 2011, during which a developer showed a live demo of Android Apps running on the Blackberry Playbook.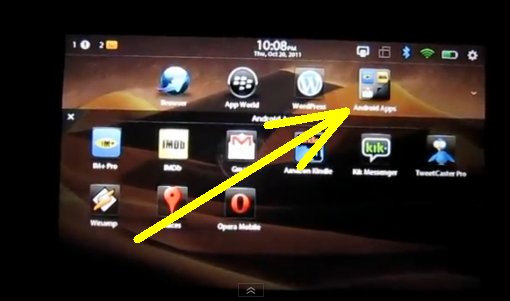 As you can see, there is an icon for a group called Android Apps and as the name suggests, it groups all the Android apps on Blackberry in one. RIM has worked on a special Blackberry player which is used to run Android apps on all Blackberry devices.
This is definitely a good thing for RIM as Blackberry has always lacked good apps  as a result of which regular users as well as developers have always stayed away from Blackberry and they still do. Android Apps on Blackberry will definitely help RIM to provide their BlackBerry users with a platter of already available good Android apps.
Watch this video below: