When Nokia was talking about doing away with Symbian as the operating system for most of its high end phones, everyone though Android would be the best possible replacement. However, Nokia stunned everyone with its Windows phone partnership and by launching the new Lumia series of mobile phones that run on Windows Phone 7 & Windows Phone 8.
However, till date Nokia has not tasted worthwhile success and is constantly struggling with companies like HTC, Apple, Samsung & Motorola to make a mark in the current smartphone market. Although Nokia is the 2nd largest manufacturer in terms of number of handsets shipped, still Nokia has failed to impress users with a Smartphone which is as good as the high end ones from Samsung or HTC.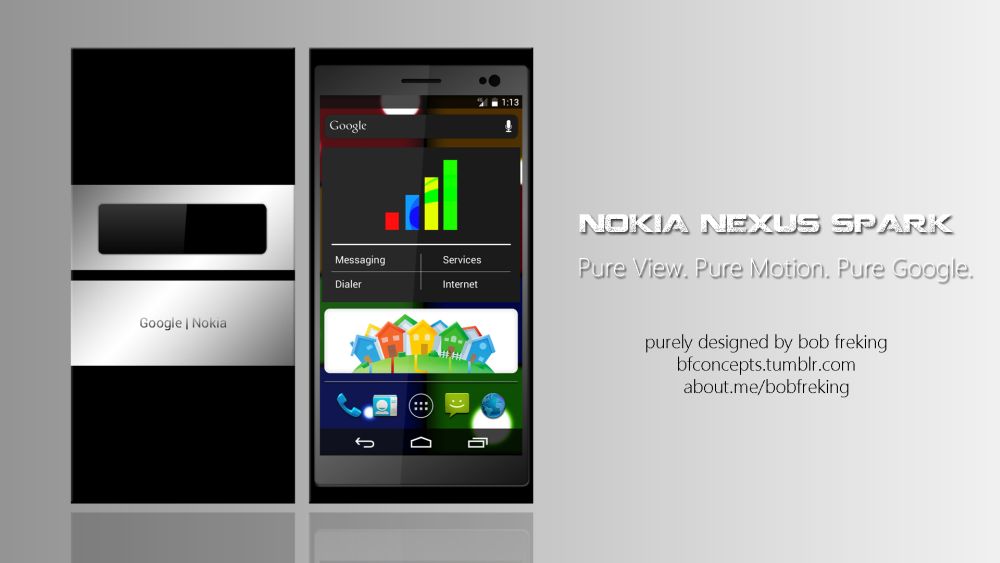 A lot of Nokia fanboys still hope that someday Nokia would definitely launch an Android device, but thats only upto Nokia. Will, in the same anticipation, designer Bob Freking has come up with a concept phone "Nokia Nexus Spark" that would run on the latest Android operating system. Please note that this designer is not related to Nokia, and has suggested the designs independently.
He calls this concept phone – "Nokia Nexus Spark". As per this concept, the Nokia Android phone would run on Android 4.1 Jelly Bean and would have a 4.8 inch hi-resolution display with Gorilla Glass protection. The phone would be powered by a quad-core Snapdragon S4 Pro processor. Apart from these, it would also have the 41 megapixels camera which is already available on Nokia's Pureview series.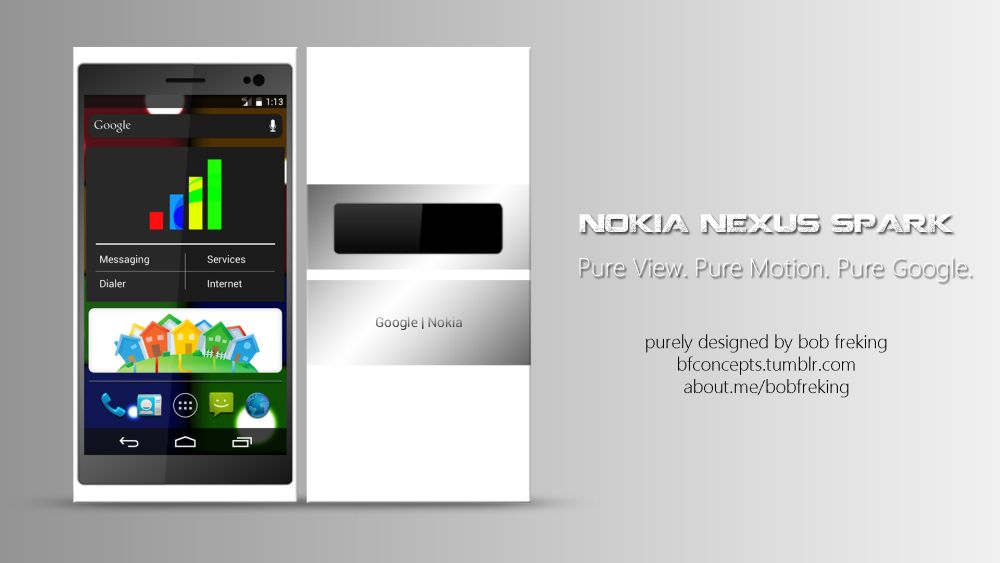 As per the concept, the phone would run on upcoming – Android 5.0 Key Lime Pie and would have a 3400 mAh battery from where this monster will draw all its power.