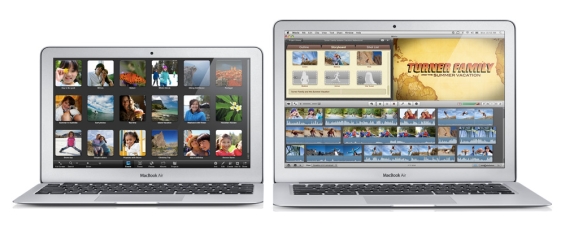 Macbooks are the most amazing laptops in world with looks just unmatched and unparalleled. Apple, after years of excellence and innovation comes up with a new star. Its the Macbook Pro Air. As you can see, it looks incredibly beautiful and as they claim its the thinnest and lightestnetbook of the world.  
The Macbook Air not only  looks awesome but it is very strong and capable on performance front too. Here are some key analysis we have done to prove our point and after reading it we are sure you would be convinced.
STORAGE
Many of you must had an iPod., iPhone and the new iPad and you must have been aware of the speed, efficiency and reliability that the flash storage in them provide. So what apple  did was to incorporate this wonderful idea to use this type of storage in a Macbook air.And the Result was a super fast data retreieval and also gives it a astonishing ability to stay on standby mode for a month which simply infers that Your macbook air  snaps to in an instant whether you open it today or next month.
BATTERY
If you ever get a chance to look inside one of these, you would be just amazed of the engineering excellence of apple engineers.what they did was very intelligent , they removed the flash storage
enclosure and placed the flash chips on the logic board to free some room and a result they have space for a bigger battery.
And what was the result, Now an 11-inch macbook gives 5 hour of battery life and 7 hours on 13-inch model.Its gives your mac to wake up in an instant even after a month of standby.So you are free to go off the grid knowing that you are still on charge.
GRAPHICS AND PROCESSOR
Each of these mac comes with NVIDIA Geforce Graphics 320M graphics processor which gives you a 2X performance boost what you experienced with its previous model.It now gives you an incredible and satisfying capablilty to browse photos, watch movie or play games.And a good news for all you gaming fans it runs Call of duty 4 with relative pleasure so you dont go by its light weight and thin design. looks are deceiving in this case.It stilll perform much better than any other netbook.
Though it weighs less than three pounds intel Core 2 duo processor, 2GB of 1066MHz DDR3 SDRAM onboard (4GB maximum) and apple architecture gets your work done really fast.Whatever your work is macbook air lets you do that whenever and whatever it  needs to be done.
High-Resolution Display
Corner to corner and pixel by pixel, the display on the new MacBook Air is both an engineering feat and a design breakthrough. It measures a mere 4.86 millimeters (0.19 inch) thin, yet the resolution is so high, you'll feel like you're looking at a much larger screen. And with good reason.
The 11-inch MacBook Air features a widescreen 16:9 aspect ratio and a resolution greater than that of a typical 13-inch notebook, while the 13-inch MacBook Air wows with a resolution equivalent to a typical 15-inch notebook.
FaceTime Camera. Hello, iPhone. (You too, iPod touch.)
Hidden inside the wafer-thin MacBook Air display is another engineering achievement — the FaceTime camera. It's so thin (even thinner than the camera on iPhone 4) you barely notice it, but it's incredibly capable.
Using the new FaceTime for Mac application, currently in beta, you can make FaceTime calls over Wi-Fi with anyone who has a Mac, an iPhone 4, or the new iPod touch. And the video quality is so good, you can even chat in low-light conditions.
Stereo Speakers – Heard but not seen
Despite its compact form, MacBook Air delivers full stereo sound. Space-efficient design inside the enclosure allows for the placement of left and right speakers that project sound through the keyboard.
So you're able to enjoy a richer audio experience while chatting online, watching TV shows, listening to music, or playing games.