Motorola showcased  the BACKFLIP during CES 2010 and now AT&T has confirmed that it will put the Motorola's BACKFLIP up for sale at $99.99 ( with 2 year agreement and after $100 mail-in rebate) by 7th of March on www.wireless.att.com.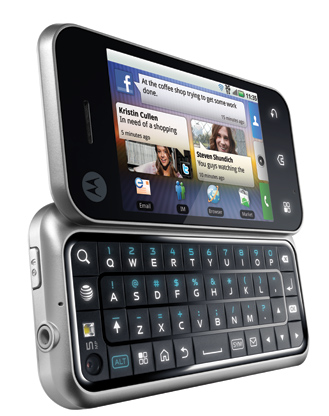 BACKFLIP brings in a never-seen-before Qwerty Flip design ( the keypad rotates around the phone-screen body and ends flat up against it, with the keys facing out) along with the other usual stuffs expected from smart phone of its league like touch-screen, 5 MP camera, 7.2 Mbps 3G support, Wi-Fi, Bluetooth etc and is powered by Android. It also features Motorola's new social media tool named MOTOBLUR, which will keep you updated with social network feeds.
"Motorola BACKFLIP brings together the best of social networking with the nation's fastest 3G network," said David Christopher, Chief Marketing Officer of AT&T (Mobility and Consumer Markets). "With the ability to ride on our newest and fastest 3G network, access to more than 20,000 AT&T Wi-Fi hotspots, and the ability to talk and surf at the same time, BACKFLIP boasts a better Android experience."
You can check out the Motorola BACKFLIP's promotional page here for more details.
Source : AT&T Press Release