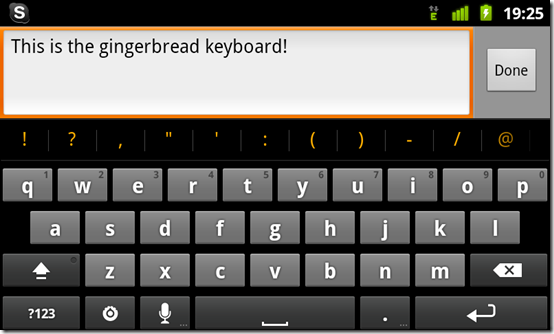 The Nexus One is joining the Nexus S in getting the Gingerbread goodies, while the rest of us are stuck at Froyo or Eclairs. However that does not mean that we cannot enjoy some of the awesome features of Gingerbread – for example the keyboard.
Gingerbread has an awesome keyboard. I am a Swype user and when I first laid my hands on the Gingerbread keyboard, well, it felt weird. However after using it on and off for about a week, I can say that it is seriously awesome. While Swype is awesome in the portrait mode, the Gingerbread keyboard rules in the landscape mode.
Anyway, installing the Gingerbread required rooting the phone, which is something which the majority of the people will not do. For the majority who does not want to root, there is good news – the awesome folks over at the XDA-Developers Forums have managed to package the Gingerbred keyboard for Froyo and Eclairs – and the installation does not require rooting.
While most of the things work with the keyboard, the vibrate on key press does not seem to work. Everything else – including the multi-touch features, auto-correct etc. – all works perfectly.
To install it, head over to the XDA Developers Forum and download the appropriate APK. You have to enable non-market applications to install it. Once installed, you can enable it from Settings > Locale and text.
[via: LifeHacker]