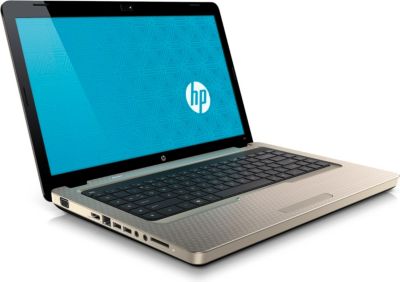 Gone are the days when you think that a moderately priced laptop can't be fashionable. HP has launced its "g" series laptops that are successor to the upper case "G" series line of laptops. These are entry level laptops and are mainly aimed to the folks who don't want to buy the high priced pavilion laptops of the HP Envy series of Laptops.
Previous HP G62-223cl and G62-225nr of G series were not fashionable and eye candy and had a very basic design. But the new "g" series laptops have much improved look from matte to a glossy shinier coat. Even if it is a plastic design there are many exciting colors and patterns to choose from including magenta, purple and warm silver. The model is a front to back slope as opposed to boxier looking G62s.
The interior is dual tone. The black keyboard is surrounded by the same color and finish that drape the outside of the laptop. It has a curvier keys than its previous model and the touchpad is now infused into the plastic. However,their will be  a texture outlining the touchpad. The left and right mouse buttons are similar to the new pavilion models.
Basic features are supported by a minimum of three usb ports, Ethernet, VGA and a media card reader. An HDMI port along with a built in optical drive is also present. And to add to the treat each of them will be havinh a BrightView display, and Altec lansing speakers with SRS premium audio. The HP g4,g6 and g7 will be avaliable for purchase from March 13.
via : pcmag.com