So, its here..!!! The official Twitter app for iPhone has finally arrived. Twitter confirmed in its blog, "Comprehensive analysis of the Twitter user experience in the iTunes App Store showed very plainly that people were looking for an app from Twitter—we didn't have one so they generally got confused and gave up. Obviously, we saw room for improvement. Starting today, Twitter for iPhone and iPod touch is available for free on the iTunes App Store."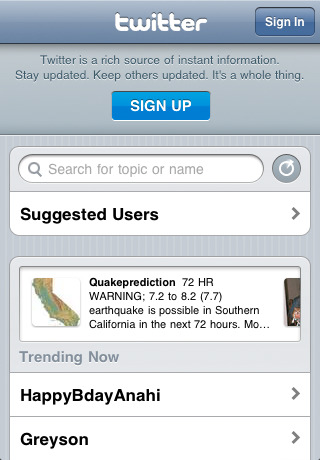 The app is same as the Tweetie 2, which is renamed to Twitter for iPhone , since Twitter acquired Tweetie. One thing worth noting is that , you dont need a Twitter account to actually use the app. You can easily browse through the trending topics, the top tweets, search for the celebs , the top twitterers.
Newbies don't need to visit the Twitter site to make a new account, it will just take few seconds to create, using the app. Also the app in other languages is also on the cards.
You can download the app from the iTune App store today. Happy Tweeting 🙂