Every intellectual at some point of time must have thought of doing something for nature and environment but practically no one has time for it.Well you can get a cutting edge technology gadget and at the same time you can  do your bit for nature. This is made possible by With a U Series Bamboo Collection notebook ASUS  U43Jc.
These laptops are not just beautiful and powerful but also very smartly designed to reduce energy consumption. It comes with an  exclusive Super Hybrid Engine (SHE) monitors processing loads and delivers the exact amount of power suited to the task at hand. Energy efficiency is further bolstered by NVIDIA Optimus technology that switches between high end discrete graphics and normal integrated visuals, depending on system usage. And it is only laptop of its kind in India that comes loaded with these two intelligent technologies.
If you have a serious taste of fashion and somewhat eco conscious too, the U Series Bamboo Collection is the right choice. It comes with a  bamboo exterior  treated so as to retain its organic look , properties and tactility. The natural bamboo is juxtaposed with sleek, brushed aluminum interior surfaces.
As you can see it comes with a seamless chiclet keyboard that is as comfortable to use as  great it apppears to your eyes.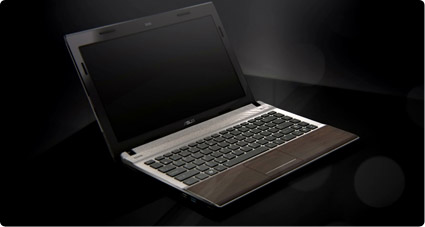 USB 3.0 is another new addition to the range, enabling data transfers that are up to ten times faster than USB 2.0. USB 3.0 is fully backward compatible, so you can be assured that all of your existing USB devices can still be used. And while transferring massive content and large files in mere seconds is a plus.Its  vibrant and crisp LCD panel comes with a Zero Bright-Dot guarantee, providing peace of mind against dead pixels, while ASUS Splendid Video Intelligence Technology automatically tweaks colors, sharpness and other visual parameters to ensure the best experience regardless of the content being viewed. The superb visuals are matched by the notebook's pristine and accurate audio delivery, thanks to high fidelity SRS Premium Surround Sound.
Following are the specification of this laptop
Processor & Cache Memory   Intel® Core™ i3 Processor 370M (2.4G ,3M) GHz
Operating System                     Genuine Windows® 7 Home Premium,
Main Memory                              4GB DDR3 1066
Display                                           14″ LED backlight ColorShine
Video Graphics & Memory     Nvidia® GeForce® GT 310M with 1GB DDR3 VRAM
Hard Drive                                     500GB, 5400rpm
Optical Drive                               8xSuper Multi DL
Video Camera                              2.0 Mega Pixel web camera
Fax/Modem/LAN/WLAN      Integrated 802.11 b/g/n
Battery Pack & Life                    8 cells: mAh
You can grab this  Amazing laptop at just  Rs.61,999  and add a statement to your style and ecological awareness.