Chinese e-Commerce major Alibaba has launched an all new cloud-based operating system (OS) meant for tablets and mobile phone devices. The OS is called "Aliyun". It took to 3 years for Alibaba's Alicloud division to get the Aliyun OS ready for the world and Alibaba claims that it had more than 1200 engineers working on the development of the operating system.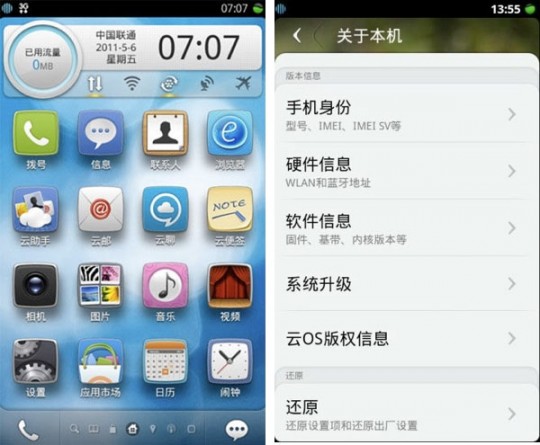 Unlike Apple which lays more emphasis on developing native apps for it's mobile platform – iOS, Alibaba has chosen to go the cloud way. According to Wang Jian – the president of Alibaba's Cloud Computing division, cloud based mobile apps have two advantages –
1. Provide users with a new way of accessing their favorite content online.
2. Provide an easy way for software developers to develop mobile applications using the latest web technologies such as HTML5 and Javascript.
"Aliyun" Features
Cloud based services like e-mail, Internet search, weather updates, etc.
Mapping & GPS navigation tools.
Web-based apps (easy to use and access)
Ability to run all your favorite Android apps
No need of downloading and installing mobile apps.
Ability to seamlessly synchronize and store all your vital information such as  contacts, text messages, photos and call logs in real time to AliCloud.
Free 100 GB AliCloud storage space for Aliyun users for data backup and synchronization.
Developers
Developers have two options to choose from when they start developing apps for Aliyun. First is they can develop apps and store on their own servers, second one is to use AliCloud's web interface (optimised especially for building Aliyun apps) to develop their apps. Aliyun fully supports Android apps, so developers who already have made their apps on the Android platform, need not worry much!
Device Support
The first mobile to run Alibaba's Aliyun cloud based OS is the "K-Touch Cloud-Smart Phone W700". This device was also unveiled by Alibaba along with Aliyun. Alibaba plans to integrate the Aliyun OS with more devices like mobile phones with large screens and tablet computers.