Ever been driving on the road one hot summer day and thought, "Hey, I want to measure my fuel consumption, oh wait… my car is not equipped with such a feature." It is always a sad day realizing that our cars are not manufactured with tons of built-in awesome features to measure fuel consumption, obtain real time traffic information, up to the minute updates on gas prices, car trouble advice and so much more. That is, until we got an iPhone!
There are loads and loads of iPhone apps built to enhance your everyday driving experience. However, with all the options available, how can you know which ones are worth your time and money? Well, the good news is you don't have to spend a thousand bucks trying all of them out; we've already done that for you!
Here are 5 of the best applications a driver can have on his iPhone. Please take note that these are not in any specific order, they all kick serious butt and I'll leave it up to you guys to decide which is best suitable for your needs. So enjoy!
1. INRIX Traffic
INRIX Traffic is an app with an arsenal of information that will keep you updated real time regarding traffic incidents, compare traffic density on different roads and predict the traffic on the route that you plan on taking. Let's dig in a little deeper into its features.
Incidents
The INRIX Traffic community keeps tabs on the going-ons of the route you plan to take and reports any event that may affect the quality of traffic such as accidents, parades or large crowds and the likes.
Comparison
The application provides you with color coded maps that differentiate which routes have lighter traffic and which ones are heavy so you may avoid unexpected and unwanted bumper to bumper traffic.
Prediction
This application is capable of formulating projections of the traffic flow on the routes you plan to take on 15 minute intervals… now tell me you aren't impressed!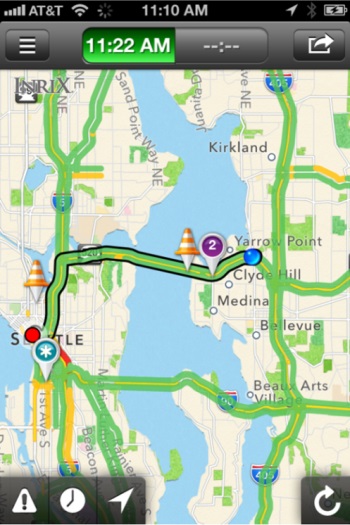 Of course in order to avail of all these features you'll have to provide your share, in the form of $24.99. Hey, not a bad deal at all don't you think?
2. iGasUp
There comes a time in all drivers' lives when the need to find the best priced fuel is dire! Driving through each one of the gas stations nearby will, of course, defeat the purpose. Which is why for a mere $2.99, iGasUp is a godsend! This app provides fresh information regarding ten of the closest refilling stations and their prices! iGasUp gets their own information from Oil Price Information Service (OPIS) and hosts a network of aver a hundred and ten gas stations all over the country.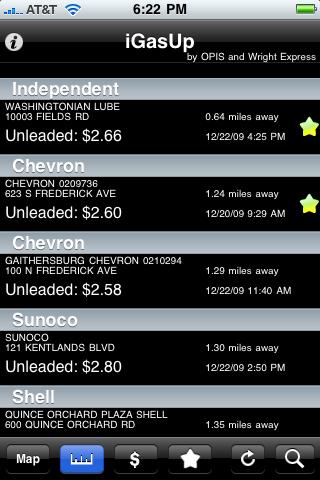 3. TripAlyzer
For those of us whose cars don't come built-in with features to measure fuel efficiency, the TripAlyzer does it for us. For $5.99 this application provides valuable information to the driver such as fuel consumption, driving efficiency and an estimate of the cost of a trip. All information can be stored for future reference to improve driving habits and at the same save the world from carbon emissions!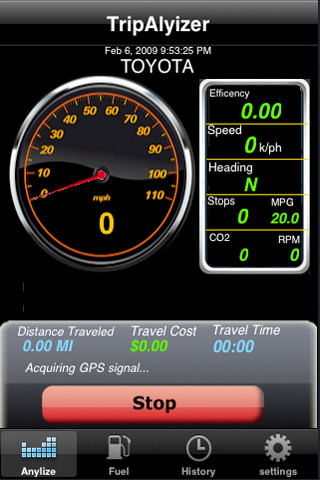 4. GoPoint App
GoPoint is an application I would recommend every driver should have. It is an application that goes hand in hand with a GoPoint cable (you'll have to purchase this). Once plugged into the On-Board Diagnostics port it provides information regarding the car's computer diagnostic system telling you if there is a problem and what you can do about it.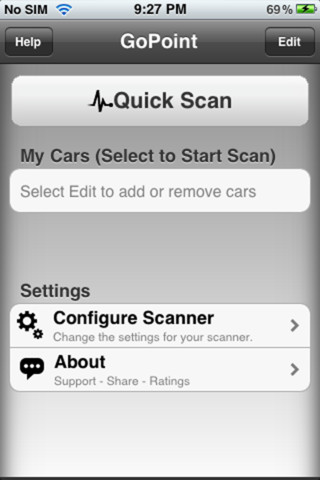 Now, the app won't go about repairing your car, but the information it provides allows you drive with more caution and know what things not to do until the problem is attended to. Oh and the GoPoint app is free by the way.
5. Beat the Traffic
Every driver's greatest enemy is the sudden onslaught of heavy traffic! In order to beat it one has to have the Beat the Traffic app on his iPhone! It provides information regarding traffic routs and events that determine which road you should take and avoid at all costs! It's really handy and it's somewhat of a free alternative to INRIX Traffic if you're not keen on spending so much for a traffic app.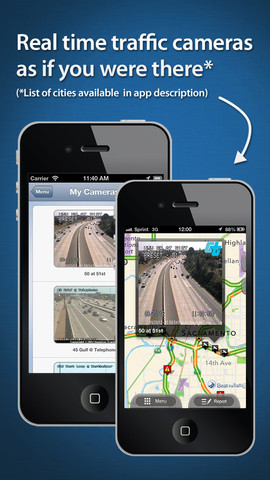 All of these apps are great. Check them out and pick which one is best suited for your daily driving needs. Always remember that the driver is still the best app for safety!
Author bio: +Stacia Littlefield is a freelance fashion stylist who has the heart to help people boost their confidence through better taste in clothing. From time to time she also buys and sells luxury cars. She has been in the car dealership industry for almost 3 years. As a car enthusiast, writing reviews about them has become her passion and favorite past time.