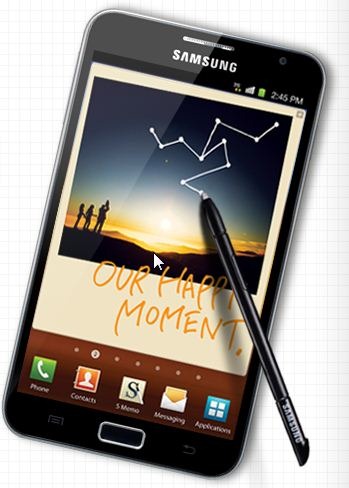 A few days back, at IFA 2011 in Berlin, Samsung showed off a new device called the Galaxy Note. The device has amazing specifications and on paper, the Galaxy Note seems like an amazing device. Here are the specifications of the device that we know till now:
– 5.3-inch Super AMOLED+ display with resolution of 1280×800
– 1.4 GHz dual core processor
– 1 GB RAM
– Android 2.3 Gingerbread
– Stylus support
There are rumors of Wacom technologies being used to provide the stylus support.
The specifications of the device does sound amazing – especially the WXGA screen and the Wacom stylus, if the rumor turns out to be true. However, one critical problem with this device is the size of the screen. I already feel that a 4-inch screen is very large for a phone. Ok, a little bigger screen, say 4.3-inch, might be manageable. But 5.3-inch is an altogether different ballgame.
With a 5.3-inch screen, it will be a very tight fit for any pocket – if it fits at all. The only pockets it will fit comfortably is coat pockets. So, with a Galaxy Note carrying it around in your jeans pocket is out of the questions.
Another problem that the large screen creates is that it entirely removes any possibility of one handed use. With 4-inch devices, it is already difficult – although not impossible – to use the device with only one hand. With the 5.3-inch screen that the Galaxy Note has you have to always use two hands.
So, the Galaxy Note does not have either the portability or convenience of one handed use of a phone. At the same time it does not have a screen large enough to be used as a tablet – web browsing, reading ebooks, watching the occasional movies etc. In short, the Galaxy Note is trying to be both a phone and a tablet – and that, I feel, is an impractical target.
No doubt, there will be users who find the Galaxy Note useful – but it is not meant for the normal users.