Are you waiting for another colour variant from BlackBerry Curve model other than black and white? Here is some news for you. We have seen some models being released in Pink from BlackBerry, and now it is time for Blackberry Curve 9360 to turn pink.
To remind you of Curve 9360, major specs include 2.4 inch display with 80*360 pixels resolution. It is Wi-Fi enabled with 5 MP camera, 800 MHz processor and a MicroSD card support having EDGE/HSDPA connectivity.
The model will be available only for UK customers; with a wait until March this year. It is definitely hard to digest if you are in the other part of the world and loving to have one. We might see this variant in other places too but there is no official information on that.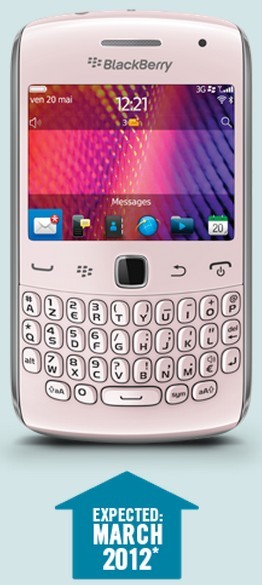 The specifications might not be changed from the previous versions and I guess the price will also remain the same. Though we cannot expect what RIM has in store for the customers; hope it goes with similar pricing and add few more benefits to the model. That is over-expecting but is not impossible with other competing models coming up early this year!
For Pink fans and of course BlackBerry's, here it is. As far as the price of the device is concerned we expect it to be somewhere around Rs. 20,000/- (Indian Currency)