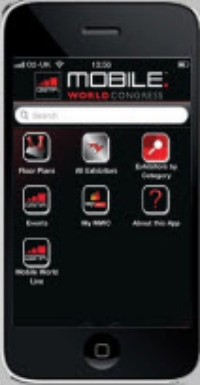 This year's Mobile World Congress Event (MCW 2011) is scheduled to start from 14th February and will will through 17th February. For all those who are planning to visit the MWC this year, downloading the Official MWC mobile application is a must. The app is packed with useful information like exhibition floor plans, exhibitor listing, and exhibitor contact details, as well as access to My MWC.
In order to download the app, you have to point your browser to http://www.whatamap.com/mwc on your mobile phone browserand download it directly to your mobile device.  The Mobile Guide App for MWC is currently available on the following mobile platforms:
However, if your mobile device or platform is not listed above then you can still access the content in your mobile browser by visiting this link:
whatamap.com/mwc/browser/index.html →
Mobile apps for such events are very useful as these apps let you stay updated with what all is going on throughout the entire event without going to each and every exhibitor stall. This year's CES also had a similar app and we must say the application was a big hit!