RIM has launched an updated version of its Blackberry Messenger (BBM) chat client – BBM v 6.0. With Social Media rocking the internet these days, RIM has also included a lot of social features to the new BlackBerry Messenger.
Apart from this, there is another very interesting feature – BBM Integration in to existing BlackBerry apps. This means you never have to leave an app on your phone in order to reply to a BBM text which you just received. You can use BBM 6 right inside any other BBM app provided it supports the integration.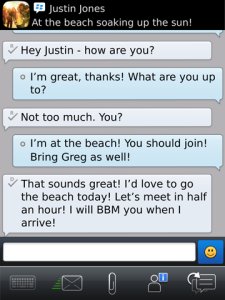 Listed below are the major improvements and the salient features of BBM 6.0:
BBM Social – Now you can invite Friends, update user profiles, chat and share content with your friends in BBM right inside other blackberry applications.
Better Location support with customized search and sharing.
Ability to send events, appointments, links and podcasts to your BBM contacts and in BBM groups.
Save BBM messages as drafts.
How To Download And Install BBM 6.0 On Your Phone?
1. Back up your BBM contact list
Within BlackBerry Messenger, Go to Menu > Options > Back Up. (Only for users of BBM 5.0 and above)
2. Download BBM 6 from the BlackBerry Appworld on your Blackberry device. Here is the link: appworld.blackberry.com/webstore/content/3729?lang=en
3. After the installation is over, make sure that you restart your Blackberry phone for the changes to take effect.
If you are not using a carrier approved Blackberry device software then this upgrade might result in a loss of the BBM icon from your app screen. See this.
Image Courtesy – Techcrunch